NVIDIA OMNIVERSE ENTERPRISE
Real-time collaboration and true-to-reality simulation platform for organizations of any scale.
BRINGING REAL-TIME DESIGN COLLABORATION TO THE ENTERPRISE
3D workflows are now an essential component of every industry. The rise of remote work, globally spread teams, an explosion in the number of often incompatible software tools, and the demand for compute-heavy technologies makes design collaboration exponentially harder.
NVIDIA® Omniverse™ Enterprise is an end-to-end collaboration and simulation platform that fundamentally transforms complex design workflows. Starting later 2021, the Omniverse Enterprise platform subscription will be available from NVIDIA's global partner network.
The platform subscription includes:
Omniverse Nucleus, the collaboration engine which manages asset interchange and version control
Omniverse Enterprise Connectors, plug-ins to industry-leading design applications
End-user applications Omniverse Create and Omniverse View
Omniverse Kit, developer toolkit
Full Enterprise Support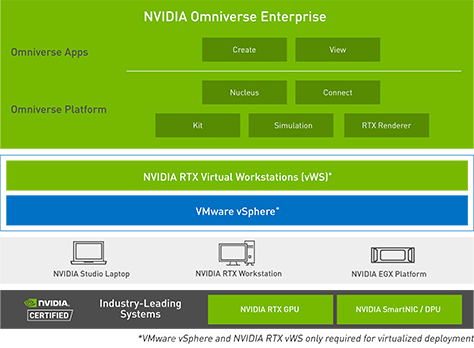 Benefits
Easily Connect Your Workforce
Give employees the freedom to collaborate from anywhere and access fully 3D-capable virtual workstations.
Achieve Faster Time to Production
Enable maximum iterations at no opportunity cost for shortened design cycles and superior final quality.
Access Secure IP from Anywhere
Keep assets secure with infrastructure that removes the need to distribute sensitive files—either locally or around the world.
Full-Service Global Enterprise Support
Ensure projects stay on schedule - minimize system downtime and maximize system utilization and user productivity.
NVIDIA Omniverse Enterprise Support
The platform subscription includes:
Direct access to NVIDIA subject matter experts
Rapid response and timely issue resolution. Remote cases are accepted 24X7 globally via phone, online portal, and emails
Access to all new software patches, upgrades, and maintenance releases
Prioritization of bug fixes and issue resolution
Want to learn more about Omniverse Enterprise Support Services?
Contact enterpriseservices@nvidia.com
DEPLOYMENT
ONE PLATFORM ACROSS ANY INFRASTRUCTURE
Omniverse Enterprise is easily deployed across any organization scale, from small workgroups on a local area network, to hybrid local and cloud deployments, to globally dispersed teams working from a central data center. Unite your teams, tools, and systems while maintaining flexibility in how your teams prefer to work. Explore the options below.
Workgroups in a local area network (LAN) can deploy Omniverse Enterprise with any NVIDIA RTX professional workstation or laptop.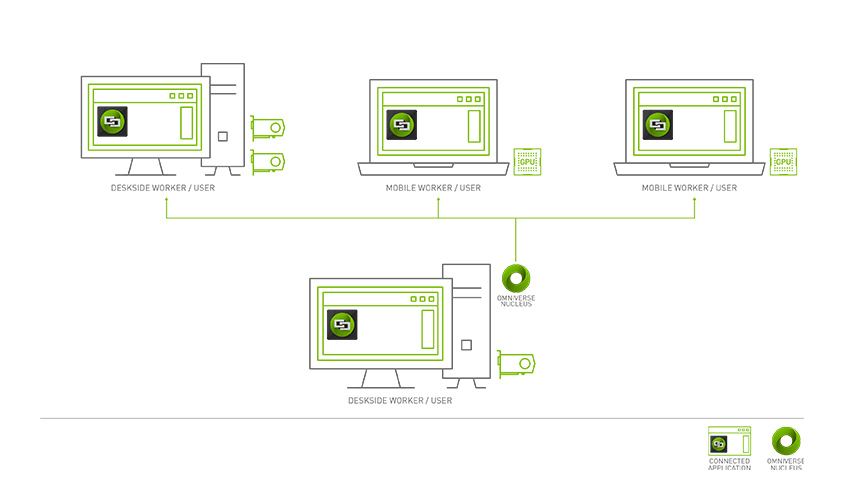 Omniverse Enterprise brings flexibility across any enterprise setup. Teams on various devices can work entirely virtualized from the data center with NVIDIA RTX Virtual Workstations (vWS), or, connect to the same Omniverse Enterprise environment using a local NVIDIA RTX professional workstation or laptop.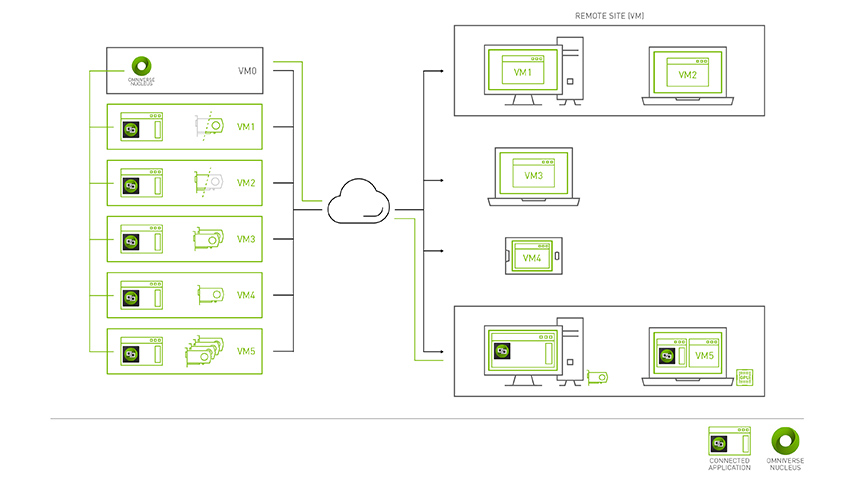 NVIDIA OMNIVERSE ENTERPRISE PARTNERS
NVIDIA Omniverse Enterprise will be available through our large ecosystem of partners starting later 2021.
NVIDIA OMNIVERSE ENTERPRISE FAQ
s
What is NVIDIA Omniverse Enterprise?

NVIDIA Omniverse Enterprise is an end-to-end remote collaboration and true-to-reality simulation platform, optimized and certified by NVIDIA to run on NVIDIA-Certified Systems. The platform includes licensable software and full Enterprise Support.

What is the difference between Omniverse Open Beta and Omniverse Enterprise?

NVIDIA Omniverse Open Beta is available for individuals and community members to test the beta version of the SDK. Support is available through public forums and a series of online tutorials.

NVIDIA Omniverse Enterprise is a new platform that includes: Omniverse Nucleus server, which manages USD-based collaboration; Omniverse Connectors, plug-ins to industry-leading design applications; and end-user applications called Omniverse Create and Omniverse View.

Omniverse Enterprise is tested and optimized to run on NVIDIA RTX laptops and desktops, and NVIDIA-Certified Systems™ on NVIDIA EGX™ in the data center. This makes it possible to deploy Omniverse Enterprise across organizations of any scale, from small workgroups using local desktops and laptops, to globally distributed teams accessing the data center using various devices.

The subscription also includes full Enterprise Support services including Support, Upgrades, and Maintenance (SUMS) with direct communication with technical experts via email, phone, and web portal to minimize system downtime and maximize system utilization and user productivity.

How can I purchase Omniverse Enterprise?

Omniverse Enterprise will be available from NVIDIA's partner network of leading computer makers, including BOXX Technologies, PNY, and Supermicro.

How much does Omniverse Enterprise cost?

NVIDIA Omniverse platform is free for individuals to collaborate between apps and one other person.

NVIDIA Omniverse Enterprise is a new platform offering that helps businesses of any size transform their 3D production workflows. NVIDIA Omniverse Enterprise is an end-to-end remote collaboration and true-to-reality simulation platform, optimized and certified by NVIDIA to run on NVIDIA-Certified Systems.

The Omniverse Enterprise solution starts at $9,000 per year for a workgroup of 2 Creators, 10 Reviewers, and 4 Nucleus subscriptions.

Omniverse Enterprise includes:

Omniverse Nucleus, the collaboration engine which manages asset interchange and version control, as either a workstation or Enterprise Nucleus Server deployment, including microservices
Omniverse Enterprise Connectors, plug-ins to industry-leading design applications
End-user applications Omniverse Create and Omniverse View
Omniverse Kit, developer toolkit for building extensions, apps and microservices
Omniverse Enterprise Launcher IT deployment tool
Full Enterprise Support including Support, Upgrades, Maintenance (SUMs), 8x5 support via email, phone, and web portal)

Omniverse Enterprise has three subscription components:

Omniverse Enterprise Creator Subscription - $2,000 per floating (concurrent) user license per year

Enables scene composition, simulation and rendering on workstations and virtual workstations
Includes use of Omniverse Create, Kit, Extensions, Batch microservices (on up to 64 GPUs) and NVIDIA Enterprise Support
Minimum initial purchase of 2 Creator subscriptions

Omniverse Enterprise Reviewer Subscription - $100 per floating (concurrent) user license per year

Enables review and approval abilities for users on workstations and virtual workstations
Includes use of Omniverse View visualization app, for reviewers to make comments, minor edits to materials/textures/basic shapes and NVIDIA Enterprise Support
Minimum initial purchase of 10 Reviewer subscriptions

Omniverse Enterprise Nucleus Subscription - $1,000 per named user per year

Provides collaboration and scalable core microservices deployed on servers and/or workstations
Nucleus Workstation, Enterprise Nucleus Server & NVIDIA Enterprise Support
Minimum initial purchase of 4 Nucleus subscriptions

All subscriptions include the Omniverse Enterprise Launcher, plus Omniverse Enterprise Connectors.

When will Omniverse Enterprise be available?

The platform will become available from our partner network later this year. Customers may apply for the Early Access program to receive exclusive updates.

Which third-party design applications does Omniverse Enterprise connect to?

NVIDIA Omniverse Enterprise currently connects to: Autodesk 3ds Max, Autodesk Maya, Autodesk Revit, McNeel & Associates Rhino including Grasshopper, Trimble Sketchup, and Epic Games Unreal Engine 4.

Is Omniverse Enterprise supported?

Yes, NVIDIA Omniverse Enterprise subscriptions include full enterprise support including:

8x5 Business Standard Support with 4-hour Initial Response
Via All Channels: Email, Phone & Web
Software Updates, Maintenance & Bug Fixes (SUMS)
Learn More About NVIDIA OMNIVERSE ENTERPRISE