NVIDIA EGX PLATFORM FOR PROFESSIONAL VISUALIZATION
High-Performance Visual Computing in the Data Centers
From rendering and virtualization to engineering analysis and data science, accelerate multiple workloads on any device with the NVIDIA® EGX™ Platform for professional visualization. A highly flexible reference design that combines high-end NVIDIA GPUs with NVIDIA virtual GPU (vGPU) software and high-performance networking, these systems deliver exceptional graphics and compute power, enabling artists and engineers to do their best work—from anywhere—at a fraction of the cost, space, and power of CPU-based solutions.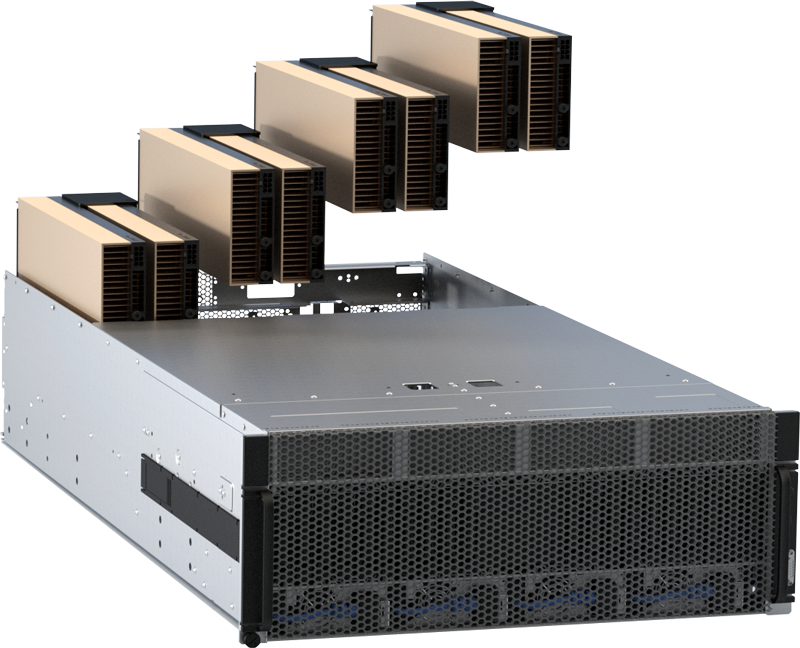 Accelerated and Validated Solutions from Desktop to Data Center
Rendering
Render final frames quicker or boost local workstation rendering performance with the power of GPU acceleration. By utilizing software accelerated by NVIDIA RTX™ technology, designers and artists can render jobs offline and produce final ray-traced images at a fraction of the time of traditional CPU-based render nodes. Even achieve fully interactive, photorealistic visualization in the application viewport by connecting to one or more servers to boost desktop performance.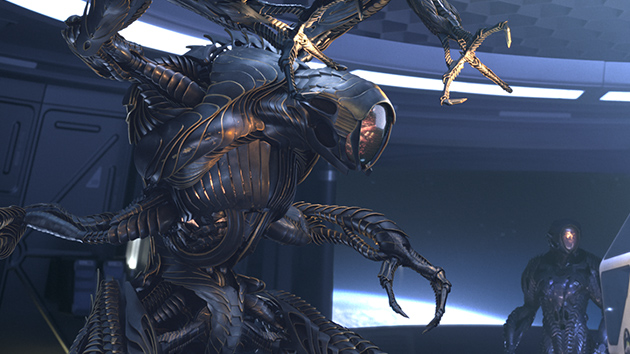 Image courtesy of Image Engine ©NETFLIX.
Engineering Simulation and Analysis
Set up, test, and iterate on complex simulations faster with servers for professional visualization, which deliver the massive compute power needed to drive simulation and generative design software tools. When coupled with RTX vWS software, engineers can design by date and compute by night from anywhere. GPU-powered parallel processing accelerates 32-bit simulation codes, while the latest generation RT Cores and Tensor Cores help RTX technology-enabled applications render more physically accurate results faster. Combining multiple NVIDIA GPUs with RTX vWS allows engineers to run simulations more quickly, smoothly and securely, processing higher-fidelity models in a virtual desktop infrastructure (VDI) environment.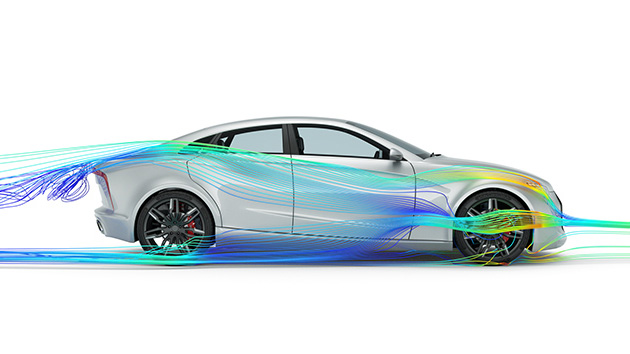 Image courtesy of Altair.
Data Science
Data Science requires powerful computing capabilities to turn massive amounts of data into actionable insights. With NVIDIA GPUs and RTX vWS, data scientists can provision multiple high-performance data science workstations to bring GPU-acceleration to their entire workflow in a virtualized environment, from data preparation and model training to visualization. NVIDIA CUDA-X AI and containers from the NGC catalog feature a collection of software-accelerated libraries like RAPIDS™ and XGBoost to completely transform data science and AI workloads, allowing data scientists to make predictions faster than ever before.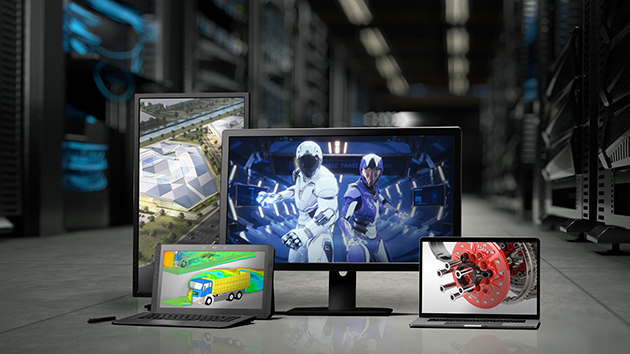 Collaborative Design
The journey from ideation to creation is a multi-state process that requires close collaboration between design and development teams. With NVIDIA Omniverse, a leading-edge digital collaboration platform, engineers and designers can simplify workflows for real-time graphics. Running the Omniverse platform with RTX vWS software streamlines 2D and 3D product pipelines for design teams working in a wide array of industries. Built around the latest industry standards for design collaboration, it lets you maintain live connections between industry-standard applications and NVIDIA Omniverse View.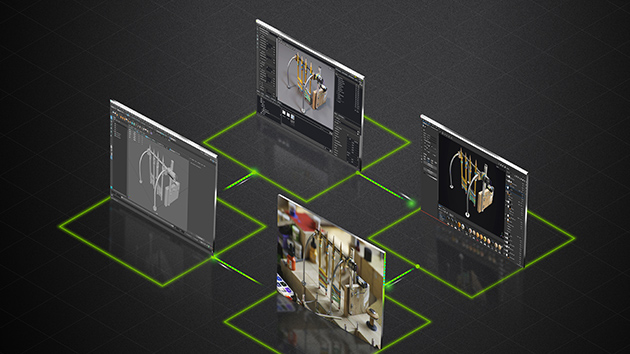 Augmented and Virtual Reality at the Edge
Bringing GPU visualization to the edge requires expertise across cloud orchestration, virtualization, 5G network operations, and more. Accelerate time to visualization at the edge with servers for extended reality (XR) 5G multi-access edge computing (MEC), a full-stack hardware and software solution. By combining NVIDIA RTX GPUs with RTX vWS software and the NVIDIA CloudXT™ SDK, developers can securely run and scale XR applications to untethered devices across 5G networks from anywhere.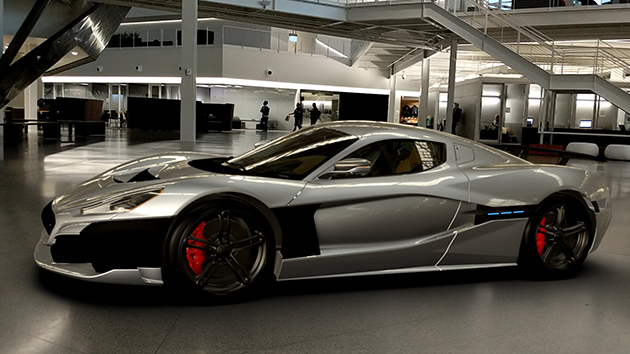 Scalable Visualization Solutions
Drive dynamic, large-scale environments with server configured for scalable visualization, allowing professionals to easily deploy and manage large-display environments from the data center. Whether developing the next theme park attraction or creating multi-sided cave automatic virtual environments (CAVE), it's easier than ever to drive the most immersive visual experiences.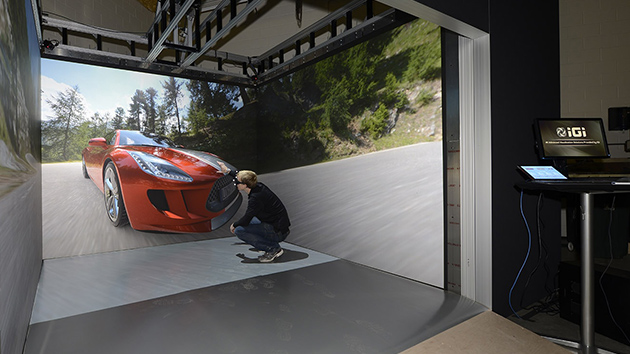 GPU Specifications
| | | | | |
| --- | --- | --- | --- | --- |
| GPU Features | NVIDIA A40 | NVIDIA RTX A6000 | NVIDIA Quadro RTX 8000 | NVIDIA Quadro RTX 6000 |
| Architecture | NVIDIA Ampere Architecture | NVIDIA Ampere Architecture | NVIDIA Turing Architecture | NVIDIA Turing Architecture |
| GPU Memory | 48 GB GDDR6 ECC | 48 GB GDDR6 ECC | 48 GB GDDR6 ECC | 24 GB GDDR6 ECC |
| NVLink Bandwidth | 112.5 GB/s Bidirectional | 112.5 GB/s Bidirectional | 100.0 GB/s Bidirectional | 100.0 GB/s Bidirectional |
| Max Power | 300 Watts | 300 Watts | 250 Watts | 250 Watts |
| Thermal Solution | Passive | Active | Passive | Passive |
| Display Connector | 3x DP 1.4 (off by default) | 4x DP 1.4 (on by default) | No physical display connectors* | No physical display connectors* |
| Resources | Learn More | Learn More | Learn More | Learn More |
* Display output requires RTX vWS license.
See more details on NVIDIA EGX Platform capabilities, benefits and how it enables artists to stay creative and studios to save costs when coupled with a GPU-accelerated renderer like Autodesk Arnold.
NVIDIA EGX Server Transforms Content Rendering (1:19 Minutes)