NVIDIA CLARA AGX
Universal computing architecture for next-generation AI medical instruments
The NVIDIA Clara AGX™ developer kit delivers a universal computing architecture-in-one system, combining energy-efficient embedded computing with scalable AI and a software development kit (SDK) to accelerate research and development teams building the next generation of intelligent medical instruments.
Accelerating the Development of AI-Powered Instruments
Real Time
Delivers high-bandwidth connectivity between sensors and GPUs
Accelerated Reconstruction
Enables research with advanced algorithms and AI capabilities
Scalable and Upgradable AI
Includes a container runtime and deployment support via NVIDIA EGX™
CLARA AGX DEVELOPER KIT
Clara AGX is purpose-built for medical instruments that require advanced computation to support signal processing, reconstruction, real-time image processing, and advanced visualization. It comes with a fully tested operating system and drivers, enabled with the NVIDIA EGX stack for cloud-application management and provisioning of remote devices. With the power of a high-performance workstation combined with domain-specific software development tools, R&D teams can easily build end-to-end streaming workflows for surgical devices, microscopes, ultrasounds, and endoscopes and reduce time to market.
---
To learn more about developing on Clara AGX or to gain access your developer kits, access the Clara AGX developer page below:
The Clara AGX developer kit is not an approved medical device and is not intended for clinical use
Explore the Components of Clara AGX
Click on hotspots below to learn more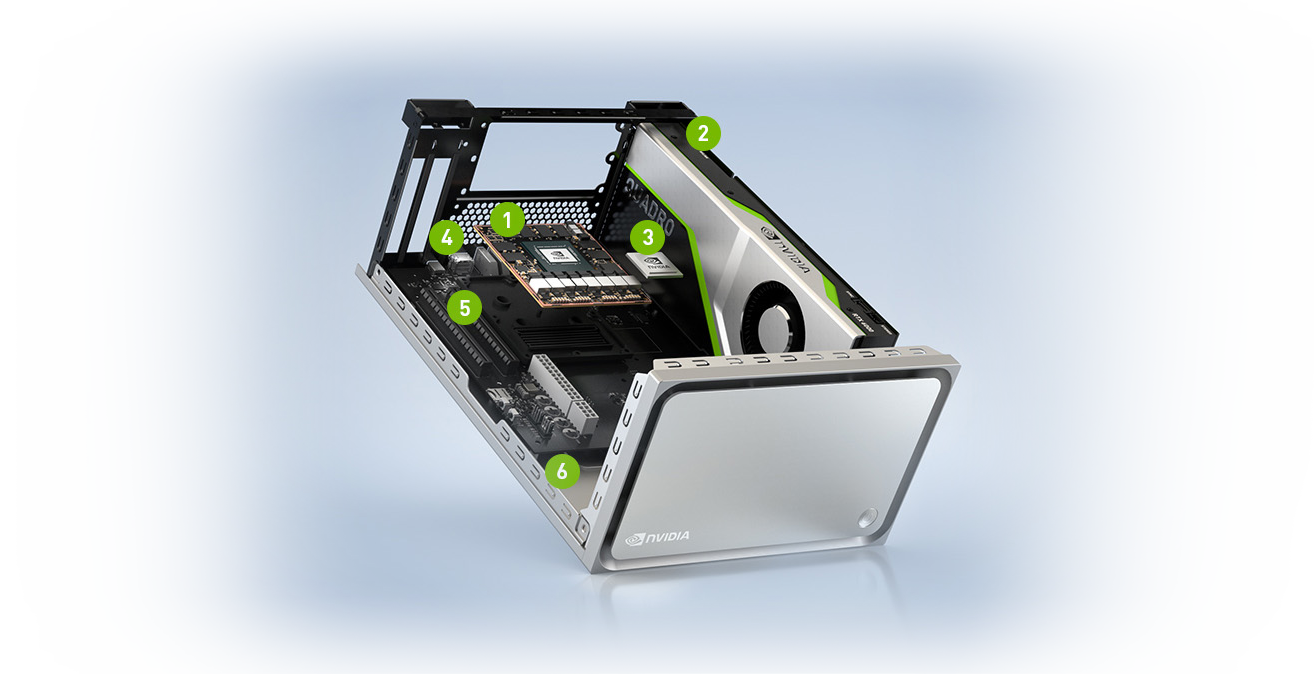 1. NVIDIA® JETSON AGX XAVIER™
2. NVIDIA RTX™ 6000
3. NVIDIA CONNECTX®-6 100GBE NETWORK INTERFACE CARE (NIC) WITH TWO PORTS - QSFP28 for 100GbE and RJ45 for 10GbE
4. HDMI 2.0 INPUT
5. 2X PCIE GEN 4
6. 250GB M.2 SATA STORAGE